Head-to-Head Comparison of Top eCommerce Platforms
Olga Demidenko , Author, Geomotiv
Published: Sep 1, 2022
Henry Thoreau, an American philosopher, once said, "Success usually comes to those who are too busy to be looking for it." For eCommerce companies, it means doing a lot of searches to nail down the most appropriate foundation for their online business. And the hard part begins when you need to decide which is the best option from the wide pool of top eCommerce platforms available today.
Planning everything and working on the solution with a clearly defined list of requirements and technical specifications is necessary. And the next step is to contact our eCommerce platform development company as we have years of experience with top eCommerce website platforms, including Magento, Prestashop, and WooCommerce.
Our expert development team is fully aware of each platform's strengths, weaknesses, and other nuances. In this article, we are glad to share insights on their differences and common features, considering their price tiers and projected capabilities. Hopefully, that comparison will help to make an informed decision about what eCommerce platform can help meet your objectives.
But first, let's look at the popularity of the mentioned top eCommerce platforms worldwide and find out the information on their market share.
The position of the best eCommerce platforms on the market
"Insider Intelligence forecast," projects eCommerce sales to hit $5 trillion by the end of 2022 and balloon to $6 trillion by 2024. As eCommerce adoption continues to rise in the coming years, more and more businesses have set their sights on entering the market and asked: "which is the best eCommerce platform for my company?"
According to Statista, WooCommerce tops the industry in 2022, having 36.68% of the market share, while Magento and PrestaShop with 1.72% and 1%, respectively. The platforms like BigCommerce, Shopify, and Wixstores dominate the rest of the eCom platforms market.
What about the usage of the above platforms in real-life cases? BuiltWith Trends website provides statistics concerning the platforms of our interest. Take a look at the table below. You see that WooCommerce powers more websites than Magento and Prestashop combined:
| WooCommerce | Magento | PrestaShop |
| --- | --- | --- |
| 12,994,651 websites | 734,990 websites | 723,205 websites |
Magento vs. Prestashop vs. WooCommerce: eCommerce Platforms Comparison
Overview
Magento (now Adobe Commerce) is a powerful tech platform for creating feature-rich online stores with powerful functionality and customizable design. Introduced in 2008, the platform has undergone some changes and updates, with Magento 2 presented to the public in 2015. It offers a free Magento Open Source and a feature-rich Magento Commerce version, which can meet the challenges of growing and mature eCommerce businesses. Read on to learn more about the platform's background in our article dedicated to the topic.
PrestaShop. Prestashop's storyline began in 2007 in France. Since then, it has grown into one of the best eCommerce platforms with its robust freemium open-source offering. It means that the platform is available for free but relies on free and paid modules and extensions to complete a store.
WooCommerce. WooCommerce, in the first place, is a WordPress plugin that functions on top of this Content Management System (CMS) and depends on its user base. Launched in 2011, WooCommerce was acquired by the team behind WordPress hosting service in 2015, and since then has become one of the top mentions on the list of the best eCommerce website platforms.
The popularity of WordPress has triggered the demand for an eCommerce plugin, which adds eCom functionality and retains the core features of a CMS. As a result, you can leverage a hybrid solution and build almost any feature on top of it.
The main difference between Magento, Prestashop, and WooCommerce is that the latter is not a standalone eCommerce platform. But that doesn't mean that WooCommerce loses as a solution to its counterparts. Conversely, you can get any of the necessary tools to meet your business goals due to its open-source nature and large WordPress heritage.
These best eCommerce website platforms have a lot of common and differentiating features. Let's have a look at them in detail.
Inventory size
Magento offers a comprehensive range of built-in features for efficient stock management. First of all, the platform can handle a virtually unlimited number of products, but the more items you store, the less performant your store will be. Having 100 000 - 200 000 products will work fine, but when you take optimization steps, the number can reach 500,000 products simultaneously.
Prestashop can handle up to 100,000 entities in a product catalog. By default, this number can increase over time, and the platform can potentially support more items in stock.
Woocommerce can handle an unlimited number of products and provides built-in tools for basic inventory management. But this ability doesn't mean that a store owner can add an infinite quantity of items without worrying about the overall website speed and performance.
When a website grows and the number of products increases, it is necessary to ensure an optimal server capacity, consider the number of installed plugins, and work on code optimization.
Features and functionality
Magento provides every necessary functionality for a store owner to sell and market their products on local and international markets. From powerful catalog management, enhanced product browsing, and advanced payment and shipping options, Magento's features can meet the demands of large businesses without limitations.
With Magento, you can access a wide range of default marketing tools, multi-store functionality, and international support for global businesses. For example, it is one of the best eCommerce platforms for creating up-selling & cross-selling campaigns, adjusting local tax rates, and transacting with clients in local currencies. Besides, Magento is one of the top mentions in the list of Enterprise-grade eCommerce platforms.
And if your business model is complex and non-trivial, there is no need to integrate third-party software with your store. For instance, Magento's advanced features allow for a straightforward checkout process flow, as it enables shipping a single order to multiple addresses or comes with SSL security support for each purchase. Additionally, robust customer loyalty programs, customer segmentation, and flexible search options are available.
Prestashop is one of the top choices for eCommerce businesses since it offers a comprehensive range of standard features to help you successfully create and run an online store. However, many useful tools aren't included in the platform by default, and you will have to add paid extensions and plugins to reach envisioned goals.
The platform provides the following core features:
customization of the underlying code;
creating and managing products in a user-friendly dashboard,
SEO tools;
integration with payment gateways;
multi-language support;
the ability to create international stores;
shipping management options;
a single-page checkout with preconfigured design;
the creation of special offers;
cart abandonment management;
performance analytics tools, and much more.
Since WooCommerce is geared towards working with WordPress-based websites, your online store reaps the benefits of the renowned CMS. One of them is seamless access to robust blogging features, which help to promote a brand with ease.
The platform comes with diverse built-in feature sets, such as tight integration with payment gateways, easy order processing, support for different types of products, and intuitive order management. Other features that speak in favor of Woocommerce's status as one of the best platforms for eCommerce include:
a wide array of themes and templates;
vast filtering options;
the ability to showcase customer feedback and rate products;
data analytics tools;
diverse shipping options;
built-in SEO analysis, etc.
Headless architecture
If you plan to use one of the platforms, in the long run, it is necessary to assess their evolution capabilities. One is a readiness to follow a headless architecture, which is the opposite of monolithic architecture. This approach stands for separating front- and back-end parts of a platform and the ability to add several user interfaces to cater to different types of end-users.
Magento's path to going headless began when the 2.3 version went live. Since then, developers could decouple the front-end part without resorting to custom APIs. Instead, the platform relies on GraphQL, React.js, or PWA studio as a bridge for multiple UIs and back end.
As a result, a Magento store can become more performant, lightweight, and faster. Besides, it helps to create mobile-and desktop- friendly experiences, which can increase conversions and optimize the user experience.
Prestashop doesn't lag in adopting headless architecture and creates more opportunities for its clients to enable omnichannel experiences, mobile-friendly features, and lightning-fast speed. As we can see from the recent update from the Vue Storefront blog, PrestaShop has been connected to Vue Storefront using a custom REST API module.
WooCommerce promotes a brand easily platform-based online stores when it goes with a headless architecture. With a monolithic core, WooCommerce relies on a template-based design, which dictates how the front-end will appear to end-users. Besides, it is necessary to comply with the rules established by WordPress and PHP programming, which limits the scale of possible things for developers.
However, when you separate the WooCommerce back-end from the UI, you can overcome such constraints. No matter how many plugins, extensions, themes, and items in a product database you have at a Woocommerce store with a headless architecture, there is always a way to make dynamic changes to the front-end without disruptions.
Customization abilities
When it comes to Magento, the good news is that you can customize the look and feel of the store without functional limitations. The platform offers one of the most comprehensive customization opportunities with ready-made and tailor-made themes and extensions. Magento's native power makes it easy for online store owners to launch a successful online store as it has one of the most diverse out-of-the-box feature sets.
With Magento, merchants can modify every aspect of their online business, add new capabilities, and introduce novice features. However, one should consider that this level of customization and flexibility requires advanced coding knowledge and the ability to meet stringent system requirements.
As for Prestashop, this platform provides a solid foundation for an online store's continuous development and enhancement. It comes with 100 basic modules free of charge and lets you choose from a diverse base of 3000 commercial modules with a vast customization potential.
Besides, Prestashop has a large catalog of free and paid themes that provide vast store adjustment and customization opportunities. However, it is necessary to remember that orchestrating unvetted add-ons or themes requires development effort and causes maintenance issues.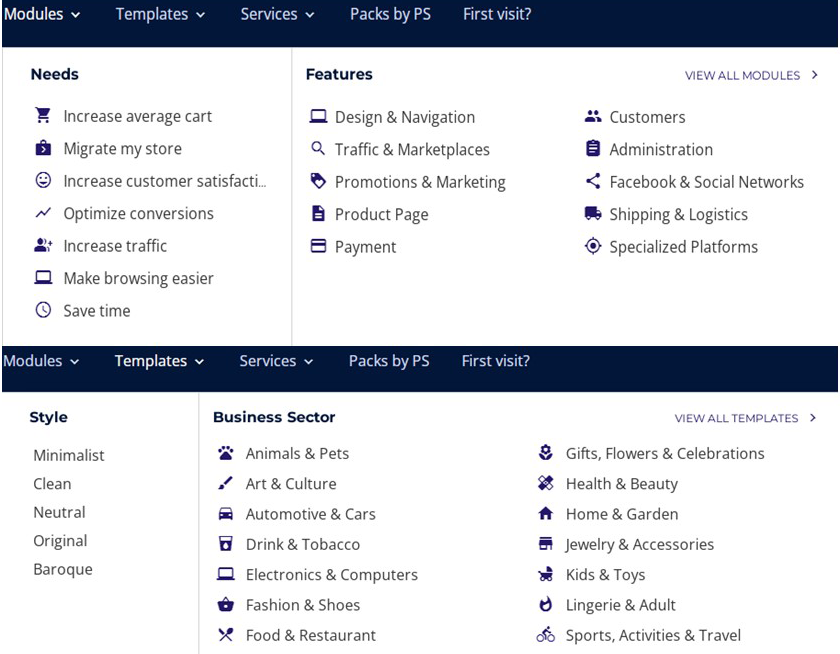 Like its parent platform, WooCommerce relies on ready-made templates to deliver specific functionalities. Besides, the platform depends on extensions and code customizations from scratch to adjust the store's look, feel, and overall shopping experience for end-users.
Integration capabilities
An eCommerce platform comparison would be incomplete without mentioning the integration capabilities of each solution. Here's what Magento, Prestashop, and WooCommerce offer in this regard.
Magento is an integration-ready eCommerce platform that provides numerous ways to level up your business using third-party software. With developers' help, it can connect with different business systems such as Microsoft Dynamics GP, Salesforce, POS software, HubSpot marketing, Warehouse management, and much more.
Prestashop doesn't come with native support for ready-made data integrations, yet it can connect to online marketplaces, CRM software, and other types of services. On the one hand, you can resort to custom API development or turn to specialized modules on both official and third-party resources dedicated to Prestashop. By the way, users of advanced platform packages can connect with eBay and Amazon for free without registration.
WooCommerce offers different integration options to expand the functionality of the store. The official plugin store lists over 100 extensions that improve the functionality and efficiency of online businesses. The open-source platform allows extensive integration with couriers, sales channels like eBay or Etsy, payment gateways, ERP and CRM software, and more.
Data analytics
Best eCommerce platforms need to accumulate and process the data on customers, sales, and marketing efforts and provide personalized reports to improve customer experience and internal business processes. As the competition in online business intensifies, it is necessary to drive intelligent decision-making with the help of analytics and reporting tools.
Let's see what data analytics features Magento, Prestashop, and WooCommerce offer their customers.
Magento's built-in analytics tools include sales, customer, review, and product dashboards. With this power, the platform can generate informative revenue, abandoned cart, and other reports, including custom ones.
As for Prestashop, it has features that enable real-time tracking of visitor data and their activities, sales, shipping, and marketing activities. Besides, you can add data analytics modules to gain quick insights into your shopping cart performance, build custom reports, and have a full picture of how the business is doing.
WooCommerce lets you quickly overview the data and sort it by date, week, month, and quarter/year in the admin bar. Default analytics features include performance indicators, charts, and leaderboards, which feature top categories of inventory, customers, and products.
Supported business models
One of the basics of starting an online store is choosing a business model that reflects your idea and serves as the cornerstone of success. But what if your business plans to grow and compete internationally? Will the eCommerce platform of choice cope with growing expectations? Let's see what each of the considered solutions offers in this regard.
Magento positions itself as a platform that embraces multiple business models: B2B, B2C, and hybrid options. This means that it provides an interface for merchants to handle different business models simultaneously.
Likewise, Magento allows you to operate multiple stores from the same back-end, which helps to separate customer bases, inventory, shipping methods, and payment options. As for mobile commerce capabilities, the platform provides responsive design themes that create user-friendly shopping experiences on any device.
Prestashop is packed with distinct B2B capabilities, enabling you to treat customers on a company level instead of an individual one. Besides, the platform provides an extensive list of modules and add-ons that can help you turn an online store into a multi-vendor marketplace and add a multilingual or multi-store entity to your business.
WooCommerce allows businesses to set up drop shipping, B2B, and B2C wholesale retail stores of different sizes. Thanks to a wide spectrum of specifically designed modules, a merchant can turn their website into a full-fledged multilingual store for a monthly fee.
Cost of ownership
If you are looking for the best website platform for eCommerce, you need to consider each offer's cost and pricing structure. While the budget is a crucial factor, evaluating cost drivers and other factors affecting the investments is necessary.
The price tag for downloading an open-source Magento platform is $0. However, when you opt for paid versions of the software, prepare to spend from $24,000 to $32,000 a year approximately.
Explore more details on Magento's different pricing models in our recent article dedicated to a head-to-head comparison of Magento vs. Shopify.
Read now
Prestashop is a free eCommerce platform that requires additional investment in commercial themes, modules, and hosting. Here's what the average costs per item look like:
Hosting: from $3.99/mo to $49/mo.
Themes: from $70 to $348/mo per theme.
Modules: from $35 to $7,000/mo per module.
Although Woocommerce is a free, open-source eCommerce plugin, the upfront costs can pile up as with PrestaShop:
Hosting: from $3.99/mo to $49/mo
Theme: up to $100 per year
Apps and plugins: up to $299/year
Shipping: up to $110/year
Marketing: $$100-350/year,
SSL certificate: up to $65/year.
Conclusion
This article explored and contrasted a couple of crucial aspects of Magento, Prestashop, and Woocommerce, considering, among other things:
Architecture approaches;
Built-in functionalities;
Integration and customization capabilities;
Data analytics and reporting features;
Pricing structure and hidden costs, etc.
Although it is difficult to choose a platform that will precisely serve your needs, we hope that this eCommerce platform comparison piece will positively contribute to your decision-making process.
Regardless of what platform you rely on, make sure you always consider the below factors:
the size of your business;
scalability demands;
the complexity of the design;
the complexity of features;
data analytics necessities;
budget limitations;
access to tech resources and developers with eCom expertise.
Don't hesitate to contact our expert eCommerce developers to identify particular feature sets, interface complexity, and the architectural style of your online store. With our help, you'll be able to find a perfect match for your requirements.