Recruitment Trends 2023: Hiring Challenges and Solutions
Julia Sakovich
Author, Geomotiv
Published: Feb 14, 2023
Currently, the situation in the world is far from being the one described in fairy tales. On the contrary, social and financial instability boosted by many factors leads to various issues and changes in the business landscape, including those related to the labor market.
In general, recruitment trends are still under the significant influence of the COVID-19 pandemic that hit the world in 2020 and managed to affect practically all spheres of our life. But the growing popularity of remote work and home offices are not the only factors that will predetermine the recruitment trends in 2023.
Geomotiv is closely working with the IT labor market and has access to a vast pool of specialists. Therefore, it lets us stay tuned to the latest tendencies and requirements. To prepare this article, we've accumulated all our practical experience and related knowledge. We are ready to provide you with a list of the most significant challenges in recruitment for 2023 and offer you solutions to overcome them.
Recruitment in 2023: Challenges
So, what's happening in the business world these days? Companies continue to experience a period of uncertainty, people are not ready to stay in one place and wait for better days to come, and unstable business conditions and new requirements from employers and employees accompany all this. And these challenges are only a tiny part of the entire list of factors that have the power to affect the current recruitment trends. So, let's closely analyze the situation in the labor market and try to define the three key challenges that have the strongest impact on future trends in recruitment.
Challenge 1. Talent shortage
The gap between the number of vacancies and the number of people with relevant skills is growing. As a result, companies operate without the people they need to achieve critical strategic objectives. Companies sometimes need to spend long months trying to find a candidate with the required knowledge and qualifications. That's why retention of the existing team members and attraction of new ones are among the most crucial goals for each employer.
Moreover, people today are looking not only for higher salaries but also for more convenient conditions of work, more attractive social bonuses, more exciting projects, and, even more, important for each person, for broader opportunities for personal and professional growth and development.
We can name the population's natural aging and the growing self-employment opportunities among the reasons behind this challenge. Many people find new niches for them, such as blogging, creative jobs, handmade business, etc. Some decades ago, all this wasn't available, and people had few options for earning money. Now, many people who used to choose traditional careers can realize their potential in many other spheres.
Moreover, companies often face a talent shortage when finding local employees. Nevertheless, this problem can be easily solved by widening your horizons. The internet and people's readiness to work remotely can help you overcome this issue.
Challenge 2. Issues with hiring tech talents in the IT industry
Though it may sound somewhat surprising, the reality is quite harsh. Many software development companies can't find programmers who will join their teams. However, it happens not only because there are not enough tech talents in the labor market but also because many software engineers prefer to join non-tech companies.
In 2019 alone, over 40% of developers were hired by companies whose key business activities had nothing in common with creating software products. And since then, the number of tech experts non-tech firms have attracted is only growing.
Challenge 3. The Great Resignation
The Great Resignation (or you may have heard about it as the Big Quit) is one more significant challenge that we can observe in many countries of the world, but in the United States, this trend is undeniable. It is related to people's desire to change their jobs and start new chapters of their lives at new companies. And they quit their jobs voluntarily. This Great Resignation began in early 2021 amid all the social and economic difficulties related to the coronavirus pandemic. Just imagine, amid this massive quit, the US companies were forced to publish nearly 3.5 billion job posts only in 2021.
Very often, among the reasons for leaving their companies, people name lack of social benefits and bonuses, low salaries, lack of opportunities for their professional growth, lack of possibilities to work from home, and many others. Yet, at the same time, some employees said that they just wanted to try something new.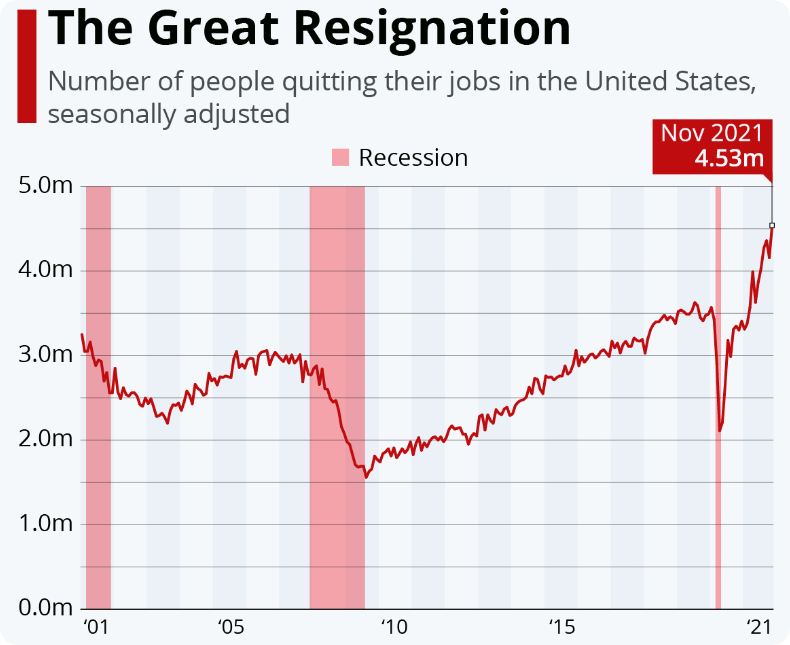 Recruitment trends 2023
The existing challenges that take place in the labor market have led to the establishment of new trends in recruitment. And if you need to hire software developers or other specialists, it will be very useful to bear them in mind to avoid many mistakes. So, what are the new trends in recruitment?
Trend 1. Remote or hybrid work model
When the first COVID-19 lockdowns were introduced, and many people had to start working from home, this idea could have looked more attractive to many employees. Nevertheless, today remote (or hybrid) work is here to stay. Now over 4.7 million people in the US work at least 50% of the time or more remotely. And according to some studies, those who work from home demonstrate better productivity than those who work only in their offices.
What can you do? Provide your candidates with enough freedom, and allow them to choose the variant that will be the most comfortable for them. Do not try to make them work from the offices. Accept that those times when the whole team came to the office at 9 a.m. and left at 6 p.m. are already past.
Moreover, you should understand that you can turn this trend into a benefit for your company. When you can offer a remote work model to your employees, you can attract more candidates. For many people, working from home is a significant advantage.
The second benefit you can enjoy is the possibility of looking for candidates locally and globally. Very often, offshore candidates have better skills and knowledge than those you can find in your country, but at the same time, their rates can be lower. It will allow you to save money and get the highest quality of work.
But please bear in mind that it is vital to choose the right remote recruitment strategy. Therefore, your HR specialists should be aware of the tactics that will help them to find and process suitable candidates from all over the world and facilitate the interview rounds.
Trend 2. Building employer's brand
Amid the global talent shortage, many companies have faced severe competition in their fight for the best specialist. To win this battle, you, as an employer, should look attractive. You need to have a good reputation and strong brand culture not only as a service provider (or seller) but also as a good company that highly values and respects its team.
What can you do? As we've mentioned above, one of the best ways to tell your candidates why they should choose you is to ensure transparency via social media. Though it is really the easiest way to start building your employer's brands, it is the most efficient.
You need to make your company look attractive to clients and existing and potential employees. One of the most accessible tools to do it is to use social media networks. You should be open and transparent and show your company from the inside and reveal some business processes and approaches (of course, only those that can be publicly disclosed).
It is excellent when a potential candidate can open your social media account and see how things are going, what atmosphere your team can enjoy, what strong team culture you support, what benefits you offer, etc. LinkedIn, Instagram, and Facebook are among the popular platforms you can use for building your online presence.
Trend 3. Proactive candidate engagement
Proactive engagement is already a well-known approach when you hire C-level managers. However, this approach should be applied today even when looking for entry-level specialists. Recruiting will get creative and complex. It will become more about talent strategy.
What can you do? A lot of recruiters say that it is quite convenient today to build a network of potential candidates in advance and when you have an open position, some candidates will already be ready to consider your offer. Among the most popular proactive engagement tactics we can name are creating a talent community, using networking opportunities, building a simple application process for candidates, and designing a good career site for attracting candidates.
Trend 4. HR automation
Digitalization of all business processes has become a well-known global trend. And now automation of all HR-related processes is entering the game and becoming one of the new trends in recruitment, selection, hiring, and placement.
It is very time-consuming and exhausting to track candidates, analyze hundreds of CVs, create interview schedules, and perform dozens of other repetitive tasks manually. But software tools can solve these problems, facilitate and streamline many processes, and let your HR specialists focus on more complex and creative tasks.
What can you do? It is important to choose highly reliable tools (or even build custom systems tailored to the needs of your business). Managers should allocate a sufficient budget for investing in HR automation software.
Trend 5. Focus on employees as personalities
People are not robots. And that's great that more and more employers clearly understand this fact. However, to ensure that people will stay at your company over a long period, you should consider their interests, demands, and mental health. People should feel comfortable, and that's the main point that each employer should treat as the highest priority of their HR strategy.
What can you do? Organizing all work processes is critical so that your team won't feel pressure. Mental health and a sensible approach to responsibilities are those things that should be addressed in the first turn if you do not want to lose your employees.
You can read more about supporting your team's mental health here.
Learn more!
It is also crucial to remember that even those employees who work entirely remotely need to have a sense of belonging and feel that they are also a part of the team. Therefore, companies should organize the work process to allow people to stay engaged and involved even if they do not visit offices daily. Otherwise, burnout and alienation will lead to falling productivity and no interest in work.
Trend 6. Culturally diverse workforce
Today diversity goes far beyond race or nationalities or even sexual orientation. It also means the presence of different political viewpoints, professional backgrounds, and education levels within a team. All people are unique, and all of them can bring their invaluable contributions to joint success.
What can you do? It's essential to show that you value all your team members regardless of the social group that they belong to, their gender, nationality, or interests. All of them should feel that they are equal and that you value them, first of all, from the side of their professional skills.
Trend 7. The growing importance of staff retention
As we've mentioned above, many companies have already faced a talent shortage, making it extremely important to retain employees who have already joined the team. Given this fact, businesses are doing their best to analyze employees' reasons for leaving the company.
What can you do? The key is gathering information regarding those factors that pushed people to depart. After analyzing this info, companies can better understand the needs of their teams to implement the necessary changes to help retain people. For example, your employees may leave the company because they lack social bonuses or do not like the workflow organization. All these points can be easily adjusted, and all your investments in the required improvements will bring their fruits.
How companies try to deal with hiring challenges today
Hiring in-house full-time employees (especially when we are talking about tech specialists) requires more and more sophisticated techniques. As a result, many companies try to find other options, such as working with freelancers or establishing cooperation with outsourcing partners. And this tendency can also be viewed as one of the current recruitment trends.
Cooperation with freelancers doesn't require specific actions from your side that are usually associated with traditional recruitment. You do not need to consider onboarding, professional education, vacancies, or retention. The main task for you here is to find an appropriate specialist who offers the desired services and has sensible rates.
Nevertheless, working with freelancers has some pitfalls. First of all, your project will not be the only one that this specialist can work on. As a result, the focus can be shifted. Secondly, when you hire a freelancer to fulfill some tasks, there is no guarantee that this specialist will be available when in the future you will have the necessity to improve or change something (add new functionality, for example). Moreover, we should admit that not all freelancers are honest and responsible market players who will deliver a product of the highest quality in time.
Nevertheless, if you do not want to hire in-house developers, or it is not feasible for you, and at the same time collaboration with freelancers is not a good choice in your opinion, we'd like to offer you to consider some other cooperation models.
At Geomotiv, we will be always ready to boost your project with seasoned developers and offer the most comfortable conditions for you.
IT recruitment trends: Dedicated teams and IT staff augmentation
One of the trendy options today is hiring a dedicated software development team. This model presupposes that you establish business relations with an outsourcing company and share your project requirements regarding the team composition and the necessary skills and this company finds candidates for you. After that, you conduct interviews and choose the best candidates. Your partner will officially employ the created team, but, in general, you can enjoy the benefits of having a remote development team that is entirely focused on your project.
This is an excellent variant for long-term projects. And it suits all types of businesses. Often, startups and companies that do not have in-house developers choose this model. But we also should admit that even software development companies turn to this model when they need to find a team for a new or ongoing project but need more manpower.
Another widely applied option is IT staff augmentation. This model also lets you save time and money on sourcing and hiring processes. It is intended to add extra talent to your team temporarily. As a rule, this model is used when you need to quickly find specialists (in other words, you need to fill in some gaps) both for short-term and long-term tasks. Here, we are not discussing creating separate teams you will manage. Instead, you will get the right talents to join your existing in-house developers.
At Geomotiv, we have access to a rich pool of seasoned developers and tech experts with outstanding practical skills and deep theoretical knowledge of all the most highly demanded technologies and tools.
We work with a wide range of business domains, are very flexible, and are always open to collaboration. What makes us stand out from the row of other companies that provide similar services is our approach to doing business. We always conduct an in-depth analysis of your project before offering any candidates who will join your project. For us, it is essential to understand the specificity of your idea to provide the right specialist with the relevant expertise.
At Geomotiv, we fulfill a full range of HR tasks, and we are interested in the professional growth and development of those candidates whose assistance will be offered to clients. In addition, we monitor our specialists' mental health and help them feel comfortable.
Moreover, if, due to some reasons after the beginning of work, you think that it's better to replace the specialist with another candidate, we will do it without charging extra fees because we need to know that the right specialists are working at the right places.
In general, outsourcing services help companies concentrate more on their core tasks without spending a lot of time and resources on recruitment and onboarding.
Conclusion
Though the ongoing market conditions do not look very optimistic, and we can face some instability in the future, a good understanding of recruitment trends and challenges can help you to mitigate the negative impact of external factors.
Among the key points to remember, we can name the necessity to focus on your employees' needs, to provide the possibility to work remotely, and to think about building your company's brand.
If you want to work with the most talented specialists and adapt fast to the continuously changing market realities, we will always be happy to hear from you and do our best to turn any recruitment challenge into a new opportunity. So just contact us via an online form on our website!