Enterprise Web Applications Guide: What You Need to Know to Build an Effective Solution
Julia Sakovich
Author, Geomotiv
Published: Sep 23, 2022
Software solutions have become a crucial part of numerous business processes, as they can greatly improve the productivity of companies and the efficiency of all their projects and steps. More and more companies of different types and sizes demonstrate a growing interest in enterprise application development. And it is quite clear thanks to all the possibilities businesses can enjoy with the introduction of apps tailored to the company's specific needs. One of the most popular types of such solutions is enterprise web applications. What are these apps intended for? What tasks can they solve? To learn all this, read this article.
What is an enterprise web application?
An enterprise web application is a web-based solution that lets companies deal with their external and internal needs but not directly with the needs of their clients.
Using enterprise level web applications boosts a digital transformation of firms and organizations and helps companies satisfy the requirements of the modern business world.
It is crucial to mention that some solutions can be intended for the internal needs of some special departments, some others - for inter-departmental communication or for organizing interaction with external stakeholders.
Currently, web based enterprise applications are only one part of solutions that deal with companies' needs and manage their business processes. If you want to learn more about the entire category of enterprise solutions, we recommend you read one of the articles available on our blog. Just follow this link.
What makes enterprise web apps special?
When you plan to implement an enterprise web application in your business processes or are even considering a variant of developing your custom solution for your business needs, it is important to clearly understand the differences between enterprise apps and other web-based solutions. So, what characteristics or parameters help enterprise web applications stand out from the row?
The most important thing here is that enterprise web solutions are intended for internal use only. They are used to process and manage sensitive data that must be secured properly. That's why there are usually very high requirements for their security.
Web based enterprise applications need interoperability, high flexibility, and scalability, which is expected to ensure great performance and high data capacity.
As such apps deal with valuable information crucial for companies' success, it is important to guarantee disaster recovery and redundancy.
Moreover, as such apps are intended only for use within enterprises, the main criteria for a good UI/UX design are convenience, clear navigation, and simplicity of operations. At the same time, in the development of apps intended for external audiences, a lot of attention is paid to the visual attractiveness of solutions and their possibility to shape a brand's good reputation.
What enterprise web apps can be implemented at a company?
Today there is a wide range of web apps that are aimed at making a lot of processes for companies significantly easier and faster. Below you can find a list of the most popular web-based solutions that have already proven their efficiency at numerous enterprises in many industries.
CRM - a customer relationship management system. These systems are developed to collect, store, process, categorize and analyze business data related to the company's interactions with customers from multiple channels. Salesforce, Zendesk, and HubSpot are among the most popular solutions of this type.
ERP - an enterprise resource planning system. Such solutions are used for storing, managing, and examining organization-wide data to optimize business processes by uniting them into a single ecosystem. Among examples of famous ERPs, we can name NetSuite ERP, Rossum, and Scoro.
HRM - a human resource management system. These applications represent themselves for organizing HR operations to avoid huge volumes of paperwork and the risk of human errors associated with traditional management systems. Examples of apps of this kind are BambooHR, Workday, and SAP SuccessFactors.
Supply chain management and logistics software. As it is clear from the name of this category, such applications help to facilitate the organization of supply chains and good deliveries. Modern solutions of this kind are enriched with AI and ML-powered tools that can help make accurate predictions for the precise time of deliveries, as well as find the best delivery routes based on the current road conditions and other factors. These apps, SAP SCM, Logility, E2open, Oracle SCM, and BluJay SCM are widely applied by many companies worldwide.
Marketing automation software. These tools are aimed at increasing the efficiency of marketing efforts. They help to execute automated marketing campaigns, conduct email marketing management and work with leads. Marketo and Eloqua are definitely among the leaders.
Document Management and File Storage. These web applications are intended for organizing all work with files in a very convenient way so that all team members can access them and track all the updates in real time. Dropbox Business, Google Drive, and Microsoft OneDrive are the brightest examples of these solutions.
Instant Messaging, Online Collaboration, and Social networks. Well-organized teamwork is one of the most important factors for ensuring your business's success. The fact that many teams work these days remotely even increases the value of good communication between team members. MS Teams, Slack, Chanty, and Troop Messenger are actively used by companies all over the world these days.
Project Management applications. These enterprise web apps help to manage processes and tasks seamlessly and quickly. Using these apps, you can assign tasks, track progress, comment on them, and view the general results of the team. Today project managers often use such solutions as Zoho Projects, Asana MeisterTask, and Nifty.
Business Intelligence. This software is intended for analyzing company performance information, which helps managers and employees make better decisions. Examples are Microsoft Power BI, and SAP Business Projects.
Treasury Management System. These systems are designed to automate the process of managing financial operations, especially those that are repetitive and are traditionally performed manually. Calypso, TreasuryPay, and ZenTreasury can be named in this category.
Corporate LMS - a learning management system. It ensures automatization, digitalization, and personalization of all the steps of a corporate learning process. Enterprises implement such systems to deliver training and learning content to their teams. Many organizations rely on such apps as Classter, Lessonly, and EdApp.
Our developers will always be ready to help you. We will closely analyze your requirements and offer a solution that will bring the highest value to your business.
Enterprise web application features
If you are interested in enterprise level web application development, to begin with, you should be aware of the key features that should be designed for it. Of course, all custom applications are unique; consequently, their features can greatly differ. Nevertheless, we believe that the features enumerated below will help you better understand what you want to have in your solutions.
Cloud-based software. When building a solution for an enterprise, it is sensible to use cloud computing, not restrict access to a particular place. Moreover, cloud solutions help to ensure the high scalability of your software.
Automation of business processes. Automating tasks is one of the most important functions of any enterprise web app. This feature allows companies' managers and employees to avoid huge volumes of manual work.
Mobile compatibility. Though web-based software is the best option for businesses, given the popularity of mobile devices and the necessity for many employees to stay connected even when they are far away from their desks, it will be an excellent idea to make apps and all the data available from smartphones.
Reporting and analytics. Thanks to modern technologies, it can enrich your enterprise apps with data analytics tools to get accurate and real-time insights for more grounded business decisions.
Online payment support. Sometimes enterprise software products have functionality for making online payments. As a result, managers can keep easier track of the expenses and keep all the transaction history in one place.
Social features. Establishing good interaction between employees and between your team and clients is crucial. Enterprise web apps can provide very convenient channels for communicating and exchanging files of different formats.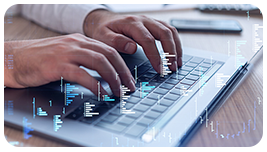 Read our article to get more information about the technical side of such solutions.
Read it now!
Trends in building enterprise web applications
As you know, the tech industry is changing at a high pace. And those apps considered to be innovative 10 years ago today are obsolete if they are not timely modernized, of course. But what are the most trending features in enterprise web app development today?
Artificial Intelligence. Though AI-powered chatbots are usually created to enrich B2C solutions and portals, for enterprise solutions built for large companies (especially for a corporate LMS), it can also be a good feature. Such bots ensure a human-like experience and are available 24/7. 
Internet of Things. IoT is a network of connected devices that can gather, process, and analyze data in real time. These data can be further sent to servers so that employees can access them regardless of location. IoT is widely applied in logistics and manufacturing to enhance the performance of these sectors.
AR/VR. Though many believe that augmented reality is usually used for entertainment, it is not. AR/VR has a huge impact on corporate learning and can help increase staff training quality. With AR/VR-enriched apps, employees can better understand how they should behave in different situations and be better prepared for emergencies.
Read more about enterprise web development best practices here.
Contact our team if you plan to launch an enterprise web app but are unsure where to start and how to transform your ideas into a real product. With our rich expertise in enterprise web development and our deep understanding of the needs of different industries, we will help you to build the best solutions for your business. Fill in this online form, and our experts will reach you back as soon as possible.