BPM Software: What is It, and How does It Help Businesses?
With the digitalization of businesses, the demand for high-quality solutions and enterprise software development is growing. This article will talk about one of the types of enterprise-level software that will help you organize and operate your business processes - BPM software. We will start with the definition and short description of this category.
What is BPM software?
Business process management software (BPM or BPMS) is an enterprise system (or set of tools) aimed at automating repetitive tasks and procedures, managing fundamental processing, and handling process logic.
The final goal of integrating BPM tools into your software system is acceleration and optimization of processes which, as a result, leads to their efficiency growth.
By ensuring that all business tasks are handled appropriately and directed to the right specialists who can timely deal with them, the entire team can stay fully focused on their work and higher value of their results.
As a rule, business process management suites are based on the following four methodologies:
Process Modeling. These tools allow mapping out different business processes and understanding how much time and how many financial resources will be required for executing this or that process.
Automation. With a reliable BPM system, businesses can move from manual processes to electronic ones where the risk of human mistakes can be minimized, and the entire processes are streamlined and facilitated.
Management. Users can monitor the effectiveness of all the participants of a particular process, get insight into all the parts of the process and track the use of business data.
Process Optimization. Thanks to this part of BMP software, users can understand how to make their business processes more cost- and time-efficient and control the use of data better and track app errors.
Benefits of BPM software for businesses
Today BPM software is one of the most highly demanded enterprise solutions. The popularity of these tools can be explained by the benefits that companies get when they integrate this software into their workflow. Below you can see only the most important of them:
Reduction of operational risks;
Enhanced collaboration between team members;
Improved operational control;
Better flexibility;
Faster introduction of new processes and models;
Higher productivity;
Automation of workflow;
Regulation compliance;
Increased revenues.
What are the main features of a BPM system?
Suppose you are going to build custom software. In that case, you can power it with the functionality that will correspond to your ongoing business needs and ensure the necessary scalability of your solution to expand it with additional functionality when required.
We've prepared a list of the most widely-used BPM software features, and we hope that it will help you better understand what kind of a solution you need to implement at your enterprise:
Form constructor for collecting and displaying relevant business data;
Diagramming tools for visual data representation;
Workflow automation tools for task assigning and deadline setting;
Documentation evaluation and approval tools;
Electronic forms for enhancing data accuracy and streamlining processes;
Features for an administrator (tools for adjusting forms and tasks if it is required);
Activity and progress monitoring;
Process performance metrics;
Reports and analytics;
Access control based on user roles;
Integration with a wider enterprise-level software system.
Given the wide adoption of mobile devices in the business world, working on developing BPM tools will be very sensitive to ensure mobile support.
With such a huge number of tasks that can be potentially fulfilled with a business process management system, there are a lot of processes across all the corporate functions that can be enhanced thanks to this software. For example:
compliance management;
performance tracking;
project management;
workflow monitoring;
onboarding;
budget planning and allocating;
customers' order tracking;
financial reporting.
At Geomotiv, we know how to help you! Our developers have rich expertise in building, modernizing, and integrating enterprise software solutions.
Examples of BPM software
Today, many businesses prefer to develop custom enterprise-level software rather than using ready-made products. Nevertheless, in some cases, it can be more feasible to choose a solution available in the market, especially if it is possible to customize some functionality or expand it with new modules.
Let's have a look at some of the most well-known BPM solutions.
Appian. This tool is intended equally for small and large businesses. It allows building and executing processes, defining critical policies, and managing apps via providing functionality for task management and progress tracking. In addition, real-time visibility is ensured thanks to dynamic reporting. This software also offers features for low-code development, robotic process automation, mobility, AI, and case management.
Kissflow. This software solution provides task management, visual process design, social collaboration, and file-sharing functionality. With this system, users can easily introduce processes, monitor task progress, and enjoy the benefits of advanced reports. Some functionality, such as workflow management, is available within the premium plans.
Bizagi. Bizagi stands out from the row of many other solutions because it is available for free for the individual needs of single users. Bizagi Modeler is a BPM system with case management, modeling, and digital process automation capabilities. The system can be deployed either on-premises (where the software can be available offline) or in the cloud.
Nintex Platform. This solution is intended for automating, managing, and optimizing business processes. It provides process mapping tools and features for document generation and a mobile application builder. There are also features for using e-signature and digital forms.
IBM Blueworks Live. It is a business software solution for enhancing, automating, and documenting workflows. The software also supports third-party integrations.
BPMS and ERP systems: What makes them different?
As we've already mentioned above, and as it is obvious from the abbreviation itself, BPM is intended for organizing and managing business processes. And at first glance, it may seem that it has much in common with another type of business solution - ERP (enterprise resource planning) tools.
Let's analyze why these systems are two separate categories of software.
The main point that we should emphasize is that a business process management system (BPMS) is much more focused on processes. But, at the same time, each ERP solution covers organizational functions (like accounting, HR, sales, etc.).
An ERP system will be an excellent choice for automating key business processes. However, BPM tools will be more suitable when looking for business analysis and workflow customization.
BPM can help to monitor the efficacy of some specific processes closely. In addition, ERP software can provide a company-wide overview and the interrelation of the company's functions.
Even though these systems are often used separately and can fulfill very similar tasks, it doesn't mean that you should choose between BPM and ERP solutions. Very often, BPM can be integrated into a wider ERP system. When this integration is conducted properly, both systems complement each other. And as a result, you will get a fully automated process management system that will also track the resource use and conduct task assigning.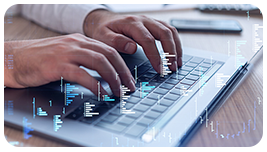 You can read more about other enterprise software types in one of our latest articles.
Read now
How much does BPM software cost?
If we are talking about ready-made options, most systems of this type are provided on a subscription basis. And to calculate how much you need to pay for such tools, you need to consider a monthly fee per user. However, a fee per user may start with just a dozen dollars. An annual fee may result in hundreds of thousands of dollars, especially if the system is used at a huge enterprise. These amounts are rather impressive even for big companies, particularly when these fees have to be paid every year. Many companies prefer custom bpm (business process management software) to existing tools.
Yes, we must admit that business process management solutions can be complex software products. This factor explains why such custom systems can require serious financial investments - up to $250K-$500K. Nevertheless, it's crucial to understand that given the benefits of such tools and the new possibilities they provide to businesses, the development of software that will be fully tailored to your company's corporate needs will still be a feasible option. Moreover, do not forget if you use a custom business management process system, you do not have to pay any subscription fees.
You can read one of our previously published blog posts to help you understand how to estimate your potential investments.
Read
Instead of a closing world
BPM software is a very important type of enterprise solution which means that even the success of your projects can greatly depend on the reliability of the used software. Therefore, we strongly recommend you devote enough time and attention to finding an appropriate ready-made product or a trustworthy development team that will build such software according to your requirements and the peculiarities of your business processes. For example, you can hire external specialists if you do not have an in-house development team. Today, several outsourcing models are available, and you can learn more about them in our blog.
And if you are considering the possibility of establishing cooperation with an experienced IT partner, you should know that at Geomotiv, we are always open to collaboration. Our seasoned developers have experience creating enterprise solutions for different industries and will be happy to share their knowledge and skills with you. Together we will be able to build a solution that will help your business to grow and reach new levels in its development.
Do not hesitate to contact us in case of any questions.