AI for Business: Benefits and New Opportunities
We won't exaggerate if we say that Artificial Intelligence (AI) is one of today's most widely-discussed and breathtaking technologies. With the recent hype around ChatGPT and the announced efforts of such giants as Microsoft and Google to deliver their own AI-powered solutions that will change the game, practically everyone has already heard about the capacities of artificial intelligence. But is it just a technology for entertainment? Or are there vast possibilities to use AI for business purposes? In this article, we will answer these questions and explain why your company may need to turn to AI development services.
What is artificial intelligence?
Before we proceed to the discussion of the benefits of AI for businesses, let us provide you with a quick overview of this technology.
Artificial intelligence is a vast science field that studies the potential and creates innovative technologies to perform a broad scope of tasks typically associated with a human cognitive system.
Among the examples of functions that AI-powered systems can cope with are text translation, content creation, drawing, detecting patterns, and transforming oral speech into written texts.
How do AI systems learn how to perform various tasks?
The situation is quite similar to humans. To learn something new, people must have an example and practice a lot. AI-powered software products need to process large volumes of data of different kinds and find patterns.
Today, as a rule, humans need to manage the learning process of AI systems. They help these systems understand what decisions are good and should be avoided. In other words, engineers monitor the learning process and analyze what decisions are taken by a system. When a decision is right, they indicate it, and when AI has chosen a wrong pattern, they also need to make a system know it. Based on the information about the right and wrong steps, AI can shape a deep understanding of what is expected.
However, it's worth mentioning that thanks to the increasing level of technological development, the involvement of humans is not obligatory. Therefore, AI systems can be designed to allow them to learn new things and detect patterns without supervision from the side of people. For example, such systems can be trained to fulfill some tasks (like playing a computer game) until they figure out all the necessary information, such as rules and principles, on their own. In this case, systems need to repeat the chosen tasks repeatedly until they get the desired results and define what should be done to achieve success.
The examples of AI products
The number of well-known and widely adopted AI products and the role of AI for business is on the rise. These examples are driverless vehicles, intelligent wearables for monitoring patients' vital parameters in a remote format, intelligent assistants like Siri or Alexa, and the already mentioned ChatGPT. But are these products already perfect? Not. There is still a lot of space for improvement.
For instance, there are still a lot of arguments about the safety of self-driving cars and the software their systems are based on. Moreover, due to the regulatory scrutiny of its autopilot functionality, the world-famous Tesla and its CEO, Elon Musk, often appear in the news. And the global community continuously has discussions about the consequences of the growing popularity of self-driving cars. Meanwhile, in China, Baidu received approval from the local authorities for offering driverless robotaxi rides and has already started providing such services at night when the traffic on the road is lighter than during rush hours. Therefore, it can be viewed as a good sign of AI adoption.
Role of AI solutions for business
Today, AI is a technology that gets the most significant investments. Companies from different industries express their interest in AI-powered systems. And there is nothing to be surprised about given the benefits of AI for small businesses, mid-sized firms, and even giant corporations.
In recent years, AI startups traditionally attract heavy investments. According to Statista, by the end of Q3 2022, they manage to raise over $35.5 billion in funding. In 2021, boosted by the skyrocketing interest in artificial intelligence observed during the coronavirus pandemic, this figure reached $65 billion.
However, not only actual figures of investment should be taken as an indicator of the growing interest. It's also important to consider such parameters as the number of companies ready to invest in this technology. And experts believe that 76% of businesses will increase their investments in AI in 2023.
The size of the global AI market is projected to hit the mark of $207 billion in 2023. Among the industries that actively use generative AI, we should mention marketing and advertising, technology, and consulting.
According to the survey conducted by Deloitte, 94% of respondents answered that artificial intelligence is critical to success.
The interest in AI for business transformation is explained by the new opportunities that companies can enjoy thanks to the implementation of artificial intelligence:
First, AI-powered systems allow businesses to optimize their labor force and labor costs.
Secondly, increase the accuracy of some processes as AI helps to reduce the risk of errors caused by human factors.
And thirdly, to organize the work with huge volumes of data more efficiently.
This is just a tiny part of all the benefits of AI for business. Still, it already brightly demonstrates why the AI field in general and all the related technologies, such as, for example, machine learning (ML), robotics, deep learning, and Big Data, continuously attract fresh investments.
AI in business: benefits and new opportunities
Let's take a closer look at how AI can help change the business landscape by expanding the horizons for companies in their growth and development.
Customized recommendations. This feature is well-known to all internet users. Today many websites can provide visitors with suggestions of goods and services similar to those people have already bought, used, or considered. For building such solutions, developers apply machine learning algorithms and data analytics tools to detect patterns in user behavior and apply this data to create new recommendations.
Smart pricing. If previously, businesses could rely only on intuition and manually conducted (and often high-level) market analysis for building their pricing policy. Now they can rely on AI and avoid many difficulties in choosing the best price for a service or product. This is because artificial intelligence can automatically analyze vast volumes of data such as operating costs, competitor pricing, customers' opinions, consumer readiness to pay, etc. AI, ML, and Big Data technologies are combined to analyze all this data and provide the most optimal option.
Automated recruitment. Finding the right people to fill the correct positions is one of the most critical tasks for businesses on their way to success. But it can be a very time-consuming and challenging task, especially when it is required to consider hundreds of CVs. AI-powered tools can streamline such processes, scan the CVs of candidates, and schedule interviews with those specialists whose skills and experience are the most relevant. In addition, it is possible, thanks to the capacities of AI, to analyze vast volumes of data comparatively quickly.
Personalizing customer experience. To offer clients what they want, you should understand what they need. That's a straightforward principle, but are you sure that you fully realize what your clients expect? AI can do everything that is required. Such tools can not only analyze behavioral patterns but also adjust the way of communication with each customer to their personal needs. A bright example of this use case includes personalized offers and deals. To create them, AI needs to analyze every point of your interaction with a client. That's why such solutions are often enriched with language understanding features.
Predictive and real-time analytics. The more information you have, the better decisions you can make. Intelligent systems powered by ML algorithms can process historical and real-time data. Thanks to data visualization, businesses can get access to easy-to-read reports that they can use in their decision-making processes. Moreover, predictive analytics tools can also make precise forecasts that can help companies to choose the right strategy.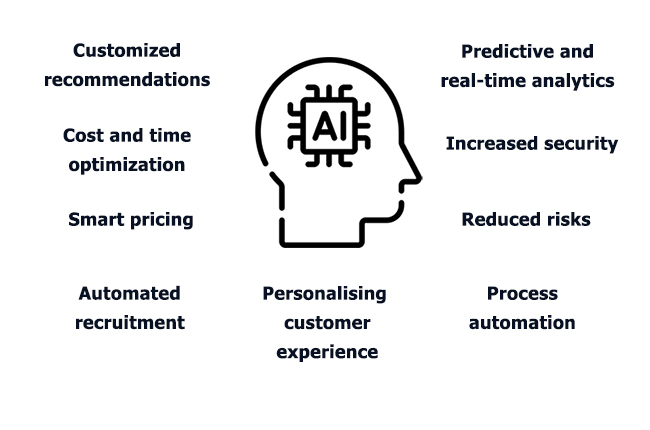 Increased security. Businesses must ensure their data is adequately protected. In order to reach the necessary level of protection, it is required to control who and when accesses sensitive information. Such technologies as voice and facial recognition help achieve desired results.
Reduced risks. Even when you hire the best specialists with outstanding skills, the chances of mistakes are still relatively high due to a human factor. When machines fulfill the tasks, such risks are eliminated.
Process automation. Repetitive tasks can take too much time. Thanks to machine learning models, deep learning, and visual automation processing, AI systems can solve this problem. While AI performs monotonous tasks, people can concentrate on more complicated and creative tasks. This AI application allows many processes to be conducted significantly faster than before.
Cost and time optimization. With the possibility of automating various processes, reducing labor resources, and avoiding many mistakes, businesses can successfully optimize their budgets and the time required for multiple activities.
We are always ready to share our skills and knowledge to offer the most innovative solution fully tailored to your needs.
Pitfalls of AI implementation for businesses
Naturally, nothing is perfect in this world. And despite all the advantages of AI for business growth, some severe challenges and pitfalls are associated with implementing such solutions and systems. So it doesn't matter whether you will use AI for small business marketing campaigns or want to launch an extensive custom AI-powered system that will work with all the queries received from thousands of your clients. First, however, you should be aware of the potential disadvantages of this step.
Costs. Let's admit that AI projects are far not the cheapest ones. That's why you must carefully plan your budget before approving plans related to custom software development and deployment. Of course, your investments will pay off thanks to the new possibilities you will get with AI tools. But not all companies, especially when talking about small businesses, are ready to invest significant amounts in software developments at the beginning of their business journey.
Lack of expertise. Though artificial intelligence is not new, active AI software development and implementation began not long ago. And today it is rather challenging to find specialists with sufficient expertise to work with AI-powered systems. Even if you have specialists by your side and they have deep theoretical knowledge, not all of them have enough practical experience to be well-prepared to deal with unpredictable situations related to the tech state of your system.
Shortage of skills. If you are looking for in-house experts who will work on developing a system powered by AI, you may need some help with the need for more relevant skills in local labor markets. However, outsourcing can be an excellent solution to deal with this situation. For example, at Geomotiv, we are always ready to provide professional help and support at any step of the project realization.
Security. Though today developers are working hard to ensure the highest level of protection, automation still brings a lot of difficulties for people to detect illicit activities like phishing or system manipulations.
Lack of data. Sometimes AI-powered systems can't learn new things just because there is not enough data to allow them to identify the necessary patterns and use them as guidelines for making decisions in the future.
Dependency on machines. In this case, it would probably be more correct to say that this point is not a disadvantage but a risk. When all processes at an enterprise are conducted manually, it is not efficient and feasible, but in such a situation, this enterprise can function entirely autonomously. On the other hand, when a company relies on AI, it means that without computers and other devices, it won't be able to continue functioning.
There are also some disadvantages of AI for small businesses that we can highlight in particular. Developing and implementing AI-powered tools require time, investments, and skills. Since small businesses usually have limited budgets and opportunities for expansion, small companies and startups can need more resources, time, and relevant skills for such tasks.
In such a situation, very often, to have the possibility to build and integrate AI-powered systems in their processes seamlessly, small businesses need to have a reliable software development partner by their side. Suppose you are also considering different variants for building a solution for the needs of a small business. Working with a dedicated development team is a good idea. This model will allow you to avoid expenses related to hiring and onboarding in-house specialists. Still, at the same time, you can cooperate with a team that will stay fully focused on your tasks and will be managed by you.
How to use AI for small businesses?
Though the general use cases of AI solutions are universal for companies of all sizes and kinds, some applications are more typical for businesses in a particular category. Below are some excellent ideas demonstrating how to use AI for small businesses.
Content creation. Though this point is still controversial, you can give it a chance. Yes, today, AI can't fully replace humans in content creation. However, you can use it to generate drafts or some pieces of content that you will use to prepare the text for your blog, social media accounts, or websites. Moreover, AI systems can edit your texts, and make suggestions related to the style and tone of the content.
Chatbots. The quality of custom services is one of the most important criteria for people when they estimate their general impressions after interacting with your company. To increase their satisfaction, you must ensure the timely processing of their queries. That's precisely what a good chatbot can do for you. Thanks to chatbots, you can reduce the time needed for processing requests from users and optimize your team and expenses.
Newsletter automation. AI can analyze content from various sources and choose the most helpful information you can include for clients or partners in your newsletter. Moreover, artificial intelligence can detect patterns in recipients' behavior to define and learn their preferences. Thanks to this data, your AI-powered system can automatically create letters based on people's preferences. In addition, it will help ensure recipients open their notes and follow the links provided.
Ad performance analytics. AI tools can study your target audience's interests, preferences, and behavior. With a good understanding of these aspects, AI can analyze the potential effectiveness of your ads and provide recommendations on how to increase it.
Accounting tasks. You can also apply AI for business processes and tasks like those related to accounting. With it, you can facilitate, automate, and streamline many routine tasks, avoid the risks of mistakes, and increase the accuracy of all calculations.
Business insights. With AI, you can change the way you work with data. You do not need to process vast volumes of data manually to get valuable business insights. Instead, AI-powered systems can do it automatically and instead quickly. Thanks to that, you will be able to understand the business environment better and detect those things that used to be unnoticed before.
Interaction with leads. Artificial intelligence will make sure that you won't lose the leads. Thanks to AI tools, you can follow up with them via emails, messages, or a website chat. Bots can communicate with them, detect patterns, and identify their intentions. When the time comes. AI bots will pass these leads to specialists who will continue conversations.
What companies use AI today?
Among those businesses that rely on AI tools already today, there are a lot of prominent companies with names known worldwide.
For example, Amazon and Netflix use AI tools to provide recommendations to their clients based on their history of search and precious choices.
Google and PepsiCo are among those businesses that rely on artificial intelligence for recruitment automation.
Uber and Zara, as well as many others, rely on the capacities of AI in setting prices.
Starbucks, Nike, and BMW have incorporated AI into their marketing efforts.
Conclusion: Does AI have a bright future?
Today businesses believe in the power of artificial intelligence. And engineers continuously demonstrate that the possibilities of AI are practically limitless, which helps us to think that in the future, we will observe the introduction of even more human-like innovative systems with cutting-edge capacities.
There are a lot of talks about the chances of AI replacing human beings in workplaces entirely. Nevertheless, right now, this scenario doesn't seem real. But the fact that the benefits of AI for business are enormous and entirely tangible is obvious.
Don't hesitate to contact us. We will help you to find the right approach to deal with the complex tasks.